The Latest in Real Estate Love Letters: Is it a Sign the Market's Changing?
Last weekend, I saw a pretty house in a popular DC residential neighborhood close to downtown. And I had to catch my breath!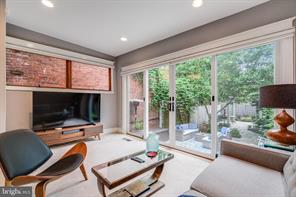 The listing agent, Weichert's Christine McGuinness, and her sellers had done a superb job of turning the place into 5-Star Buyer Bait. It appeared to be perfectly staged until it struck me that, no, these people probably live like this – I'm pretty sure it was the sellers' tasteful furniture and accessories. While the kitchen (with amazing Spanish cabinetry) was completely separated from both the living and dining rooms, it did open up to a family room with a glass wall leading to a rather enchanted rear garden with a parking space behind it. It was a Wow House if there ever was one!
As I picked up her fact sheet and floor plan, Chistine handed me something else, a sort of real estate love letter from her sellers to prospective buyers.
Now, during the last decade or so of a wild seller market, it has been buyers writing love letters to suck up to the sellers about all of the things they love about their home and how they are the perfect people (out of the thirty other groups who have submitted offers) for the sellers to choose to succeed them in having a great life in whatever house they were bidding on. It got so bad, and the letters were so full of things that could get us all sent to Fair Housing jail, that most agents now toss these missives into a shredder rather than pass them onto sellers.
But this situation was different. It was a letter to prospective buyers pointing out stuff that wouldn't show up in the Multiple Listing Service information:
The house was inches from Rock Creek Park, and there are daily "Yappy Hours" where neighbors and their dogs meet to let the furry guys play together while they humans enjoy morning coffee or maybe afternoon cocktails and trade the latest world and neighborhood goings on.
It was adjacent to trails in the park that lead around town, south through the park to Georgetown and north to the Maryland suburbs.
And speaking of nature, they mentioned the deer and the lightning bugs who are frequent visitors.
On quiet nights, you can often hear the monkeys at the nearby National Zoo.
There is a couple living in the condo building behind the house who bought a small patch of land that they transformed into a lovely garden that the neighbors can enjoy.
They earn extra income as AirBNB Superhosts with the beautifully set up inlaw unit on the lower level.
There was more, and in this extremely well-written letter, the sellers got their message across – "It's so much more than an address."
So I began to think about this. The house has only been on the market for a little over a week, part of which included the 4th of July weekend. And when people get back from holiday long weekends, I think it will fly off the shelf. But this time last year, would it have gone almost immediately in a bloody bidding war?
Um. Probably.
If the DC market does seem to be cooling off from the red hot status it's had for the past bunch of years, that's actually a good thing for buyers. And for my upcoming listings, I think I'll recommend this type of letter to help my own sellers do a little extra to make their home competitive.
I have some buyers who I thought would be perfect, except that they really do need three real bedrooms upstairs, and the third bedroom in this house is tiny without a real closet – it would actually make a perfect home office. Sigh. Still, check it out – Here is the link:  View Listing
If it might work for you, please call me and I can get you in right away!