The Graying of Washington Neighborhoods
My own house is typical of many Washington row houses built around 1915. It's boxy with a front porch across the facade, and it's built of bricks that are a sort of German dark mustard yellow.  During the several decades I've lived here, I've been tempted to paint it. Maybe a nice, warm gray.  But something has been holding me back.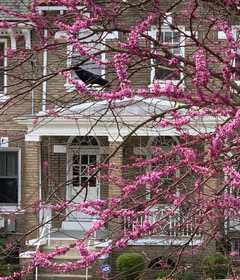 When my house was built, the developers hadn't yet discovered homeowner associations that could inhibit one's creativity when it comes to exterior color choices. On my block, a neighbor could select a green or orange shade of DayGlo with impunity – although they would be shunned at any future block parties. But because you can paint, does that mean you should?
My advice? Before you start poring over paint chips, give lots of thought to your decision of whether or not to paint at all. If you say yes to paint, your color choice deserves even more thought. In my case, I put on the brakes.
First, I'm the last house in my row, so I'd have to paint both the facade and the side of the house.  And once I do that, I'll have gone from an almost maintenance-free surface to one that will need re-painting every few years.
Second, it would mess with the feel of the entire block of houses. Historically, they've all been the yellow brick with white trim on the doors and windows.  Recently a couple of neighbors have painted their trim black, and I dunno.  I'm ready to put up a GoFundMe page to take up a collection to put them back to white.  And several of the neighborhood facades are going from a dark golden blond to an old lady gray.
So what will work best for your house will depend on your block and neighborhood.
There are a lot of old houses in Georgetown, Old Town, Capitol Hill, and other historic neighborhoods that have painted brick facades. In Georgetown, or anyplace with an active historic preservation group, you will probably need to run any changes to your facade by a committee of zealous neighbors who are programmed to say no to change.  But in neighborhoods like Petworth, where it seems like half the row houses have been redone recently by flippers, you can paint with no interference.  In many of the newly chic and trendy areas, you'll discover facades ranging from beige to indigo blue.
Then there is the big question, especially if you are likely to sell your home in the foreseeable future: what will painting a brick facade do to the resale value of your home?  And that depends. If your bricks are dark yellow, perhaps the answer is yes to getting your money back, especially if others on your block are opting for paint jobs. Selecting a neutral color is better than trying to make a statement with something bold, like DoubleBubble Pink, or even that indigo shade of blue that is popping up around town. Second, the quality of the paint job is important – this is not a DIY project.  You'll need a professional, and going low bid is not the best idea.
If you are planning a move, I would love to help. You can reach me easily by phone (202-549+5167), and unless I'm driving or in church, I'll answer or call you right back.  You can also email me at housepatly@mac.com.