A couple of years ago, my neighborhood association established a committee to explore what services our residents might need to stay in their homes as they get older.  And while I think it's better to be in a home of one's own for as long as possible, I question the wisdom of staying in any particular home just because I've lived there for several decades.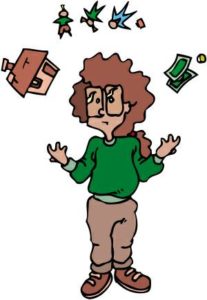 I'm now living in a 104 year old house that I bought in my youth, and today, it works less well than it once did.  It's too big, it's an effort to keep clean, there is a lot of maintenance (often deferred), and having so much space makes it easy to hang onto stuff that should be passed onto A Wider Circle or Donation Nation – or the dump!  At the same time, I love my neighbors and instead of a monthly condo fee, there is income from renting out my downstairs in-law suite.
In the course of my work, I see a lot of really beautiful, sleek condos that inspire daydreams about living in a more compact open space with gray marble countertops. This HGTV cliche is a couple of blocks from RLAH's Dupont Circle office and has a parking place.
Whatever I do, it will be a journey that I'm sure I'll be sharing with my readers.  And, if I'm like the clients that I've helped, the first step will be unloading a lot of stuff.  Hmmm.  This might be the time to start watching Marie Kondo episodes on Netflix.