If you want to find out the value of your automobile, there is an app for that.  Just pull up Kelley Blue Book's web site, and you can get a very close estimate of what the value is for any model in any condition, whether you plan to trade it in or sell it yourself.  And up to the second values for the stocks in your portfolio? You can get that in seconds and view it on the face of your Apple Watch while you're walking your dog. But what about your home's value?  Well, online real estate valuations are a little more complicated.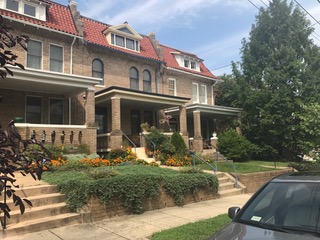 The block I live on is a good example of this, with 29 row houses that looked very much alike when they were built around 1915.  But more than a hundred years later, some have been quite magnificently restored, while others resemble what you'd find in a very large time capsule.
If you were to check in with Zillow to try to get an idea of values, good luck. Here are three houses that illustrate my point.
The block hoarder house, which has been in the same family for about 80 years, has some structural funkiness (floors are buckling under the weight of the stuff being hoarded), and most of the original systems. There is no central air, and the kitchen is pre-Julia Childs, and I'm guessing that the mice and termites all have lead poisoning. Also, emptying the place out will be interesting. Zillow's automated estimated value is $985,000.
Just across the street is a similar house that has been beautifully restored, and it is inhabited by an owner with not only refined taste, but someone as smart as this house now is. She invested in solar panels and a charging station in her attached garage. They provide all of her electrical power to run the house, she has not been to a gas station is a several years, and she gets a large check from Pepco every few months. She is compulsive about keeping all of her systems and the house's structure in top condition, and the curb appeal won't quit.  She is one person who wouldn't even need a professional stager, should she decide to sell.  Her Zestimate?  $962,676.
Then there is a third home with a Zestimate of $1.1 million that sold last month for $1.35,000.
All of these automated estimates, as well as those for the rest of the homes on the block, tend to be more than $200,000 off in either direction.
Bottom line?  Well, to reach a bottom line, the companies that provide these estimates use an algorithm. The only problem is that the algorithm has never walked through the front door of the homes it is trying to value.  And providing homeowners with something as nuanced as their home's value is better done by a well-informed human person with a real estate licence – um, like me!
If you are planning a move, or if you are curious about what your home is currently worth, I would love to help. You can reach me easily by phone (202-549-5167), and unless I'm driving or in church, I'll answer or call you right back. You can also email me at housepat@mac.com.