Here in DC, our residents tend to be quite focused on politics. Many of my clients have worked as reporters, attorneys or lobbyists who are concerned with what Congress, the regulatory agencies and the White House might be doing.  Others work for on the Hill or at the Department of Whatever.  So it's not unusual for me to have to help them "neutralize" their homes when they go on the market.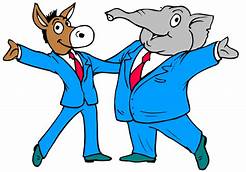 When people come to look at your house or condo, they don't just check out the room sizes, kitchen counters, and closet space.  They also look at your bookshelves and the photos on your walls and refrigerator doors.  They want to know who you are.  Are you in the same tribe?
What they see could send them running out the door of a great property, or it could set an uncomfortable tone for the entire transaction. What they don't see certainly won't hurt the chances they'll want to buy your house.
So here are my basic rules:
Look at your bookcases and remove your copies of Fear or Unhinged, and any other books that are harshly critical of any of our past or present leaders.
Any historical volumes, including presidential biographies by writers like David McCullough, Doris Kearns Goodwin or Stephen Ambrose can stay on your bookshelves.
Those framed photos of your dad shaking hands with Richard Nixon or of you shaking hands with Barak Obama?  Pack them away!
Pictures of JFK, Ike or Harry Truman might be OK to leave on the walls unless it's JFK on velvet.
If a former president or another major politician once lived in your house, you might not want to advertise the fact, although if Lincoln slept there, it could be a plus.
Do not stage your coffee table with particularly partisan magazines.
You get the idea!
In the District, political affiliation is one of the protected classes under the local fair housing laws.  And throughout the entire metro area, most Realtors zip their lips about their own political leanings, at least until they know their buyers really well – at least that's what they teach us in real estate school!