During my first week of real estate school, one of the first sessions covered how to suck up to the family dog (or cat) to get a listing.  It's a critical skill for any serious Realtor.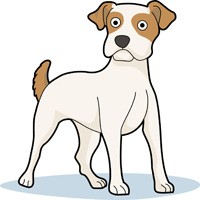 But what they didn't cover – and should have – is how to speak to potential clients about their furry family protector's liabilities when their home is for sale. And the first time I had to bring it up, things did not end well.  The homeowners told me to get out!
Dogs earn their Blue Buffalo by adoring and protecting their humans and sounding as scary as possible whenever there is a knock on the door  And when their territory is for sale, they regard real estate agents and their clients as home invaders – right up there with burglars and the mailman.
Even though most dogs are pretty harmless, if I hear unexpected barks and growls on the other side of the door of a house I'm showing, I won't go inside.  And I'm a dog person!
Any dog living in a house that is for sale is going to complicate the showing arrangements. If I know there will be a friendly dog, I want the name.  I also will have dog treats in my pocket.  Ideally (for me, though not necessarily the dog) it will be in a crate. But it's important to prepare buyer brokers for what to expect.
The best solution is to send the dog to Grandmother's house or Camp Waggy until your home goes under contract.  And there are many daycare centers for pets that can provide a solution.  If the dog is in the house, it's likely that your listing agent will have to accompany all showings, taking Fido for a walk while agents and their buyers are inside. This will reduce the number of showings and the number of prospective purchasers who will see your home.  That's not a good thing.
But most important of all, don't shoot the messenger if he or she is an agent about to list your house and tells you your furry family member is scary or even, God forbid, smelly!
And it's probably best if your agent and your dog like each other.  It might be good to look for agents with a dog, like my own Willie the Labradoodle!